Recipes: JJ's feel-good foods
These are recipes that are wholesome and simple enough to eat whenever you want. (If a recipe doesn't include the step "combine ingredients," then it's too complicated for me 😉)
Jump to a recipe:
🧀 Vegan cheddar cheese
🥣 Crunchy protein cereal
🌯 15-minute burritos
🍝 Homemade pasta sauce
🍛 Coconut lentil curry
🐥 Soy "chicken" strips
🥘 Jambalaya
🍔 Black bean burgers
More of my favorite food ideas (that aren't quite recipes):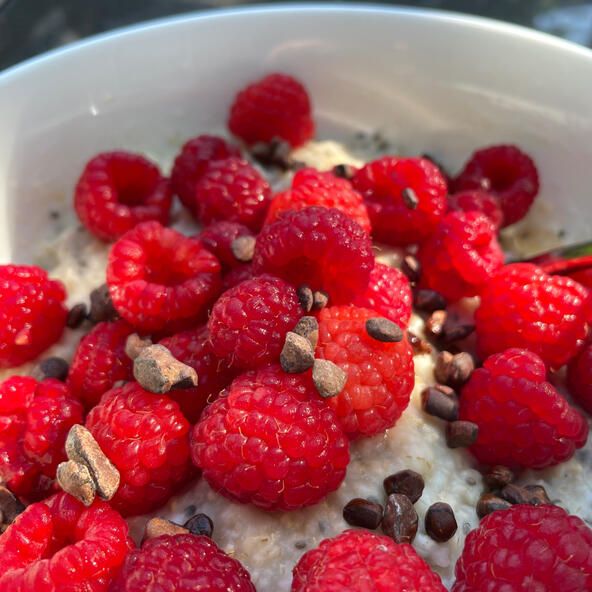 Oatmeal with berries or sliced banana, 1 tablespoon chia seeds, and sprinkle of cacao nibs
Buddha bowl with chickpeas, rice or quinoa, colorful veggies, sunflower kernels, and balsamic vinaigrette
Mocha smoothie with soy milk, frozen banana, cocoa powder, instant coffee, vanilla extract, milled flax seed, and spinach
Trail mix with peanuts, almonds, cashews, pepitas, and raisins
Scrambled tofu with turmeric, kala namak, plant milk, onion, peppers, spinach, and potato
Grilled kebabs with seitan (marinated in olive oil and soy sauce) and veggies
My meal replacement shake, which isn't a truly wholesome meal but is sometimes the best option
---
Vegan cheddar cheese
Tasty, soft cheddar cheese that's great for charcuterie, sandwiches, quesadillas, and more. It's dairy-free and easy on your digestion!
This recipe requires a high-speed blender. Adapted from a recipe by Robin Robertson.
Makes about 2 cups.
Ingredients
1½ cups cashews (raw or roasted)
3 tablespoons refined coconut oil
⅓ cup nutritional yeast
2 tablespoons jarred pimentos or roasted red pepper, drained
1 tablespoon white wine
1 tablespoon rice vinegar
2 teaspoons salt (less if cashews are salted)
1½ teaspoons light miso paste
1 teaspoon yellow mustard
½ teaspoon paprika
½ teaspoon onion powder
½ teaspoon turmeric
3 drops liquid smoke
Directions
Start with the cashews in a bowl, and cover them with boiling water. Let them soak for 1 hour or more, and then drain well.
Line a 2-cup ramekin or glass container with plastic wrap, draping the ends over the sides.
In a separate container, melt the coconut oil in the microwave (less than 1 minute).
Combine all ingredients in the blender and blend on high power. Scrape down the sides with a spatula every few seconds to ensure consistency, then continue blending another 30 seconds for good measure. The texture should be like putty.
Scrape the cheese into the lined container and cover the top with the plastic wrap ends. Press gently so the cheese takes the container's shape.
Refrigerate for at least 6 hours or overnight. Then slice or shred and enjoy!
---
Crunchy protein cereal (vegan)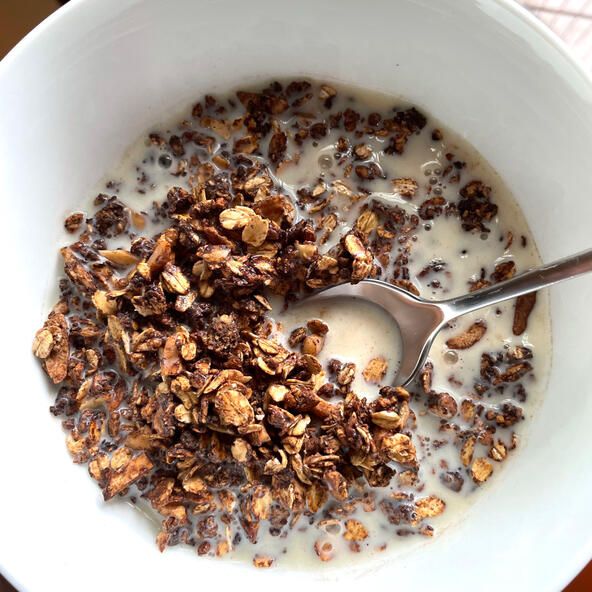 I miss eating cold and crunchy cereal as a kid, so this grown-up version satisfies without being packed full of refined sugar. It's also got protein and fats to keep you full!
This cereal is most similar to Kashi Chocolate Crunch.
Makes about 6 servings.
Ingredients
3 tablespoons milled flax seed
2 cups old fashioned oats
1 cup TVP
1 cup slivered almonds
4 tablespoons real maple syrup
¼ cup coca powder
1 tablespoon ground cinnamon
Dash of salt
Directions
Preheat your oven to 350 degrees.
In a small bowl, add ½ cup water to milled flax seed. Whisk with a fork and set aside for 15 minutes to thicken.
Combine all ingredients in a large bowl and stir until clumpy and evenly coated.
On a baking sheet lined with parchment paper, spread the mixture evenly.
Bake at 350 degrees for 15 minutes. Stir the mixture, then bake for another 10-15 minutes until crispy.
Remove from oven and let the cereal cool. Store in a sealed plastic bag. Enjoy with cold soy milk or milk of your choice.
---
15-minute burritos (vegan)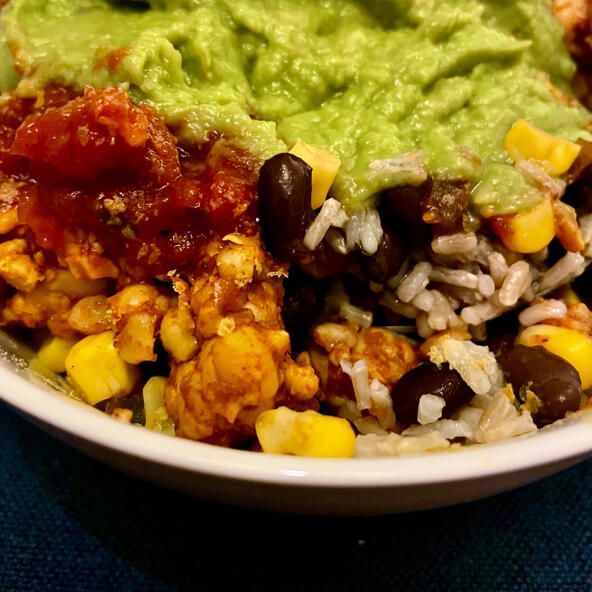 This is my fastest dinner, and we eat it nearly every week! It easily adapts if you want to be gourmet or dirt cheap.
Makes about 3 large servings.
Ingredients
1 cup instant brown rice
1 green bell pepper
8 ounces plain tempeh, "beefy" soy crumbles, or "chicken" strips
2 tablespoons of your favorite taco seasoning
1 teaspoon lime juice
1 tablespoon cilantro
Toppings: black beans, corn, shredded lettuce, hot salsa, shredded cheddar cheese or nutritional yeast, guacamole
Directions
Bring 1 cup of water to boil, add brown rice, and simmer (covered) for 5 minutes, stirring occasionally.
Meanwhile, dice the green pepper and sauté in a pan with crumbled tempeh/crumbles/strips and a little vegetable oil until tender.
Add ⅓ cup water and the taco seasoning to the pan, stirring over low heat until mixture is evenly coated.
After the rice has simmered for 5 minutes, remove from heat and leave covered for 5 more minutes. Then add lime juice and cilantro.
Layer prepared ingredients and toppings of your choice in a bowl, flour tortilla, or taco shells. (I highly recommend black beans as toppings for added protein and fiber.) Enjoy!
---
Homemade pasta sauce (vegan)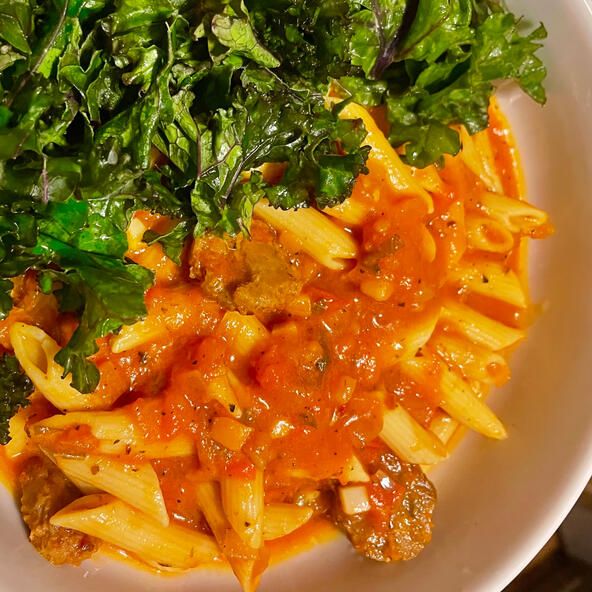 Fresh tomatoes and basil will create a sauce that will blow your mind. I've included a couple of options to add lots of protein to this meal, which makes it very filling.
Adapted from a recipe by my dear friend Julianne.
Makes about 4 servings.
Ingredients
1 red onion
3-6 cloves of garlic
1½ pounds fresh tomatoes (about 5 medium tomatoes)
6-10 fresh basil leaves
1 tablespoon olive oil
Red pepper flakes (to taste)
1 tablespoon dried Italian herbs (oregano, rosemary, thyme, etc.)
2 tablespoons tomato paste
Salt and black pepper (to taste)
½ cup TVP rehydrated with vegetable stock, or 1 Field Roast sausage sliced and sautéed (optional, for meatier sauce with added protein)
1 bay leaf
1 teaspoon sugar
1 tablespoon margarine
12 ounces pasta (chickpea penne for added protein)
Directions
Peel and mince the onion and garlic. Wash and dice the tomatoes. Wash and chop the basil.
Heat the olive oil in a large saucepan over medium-low heat. Add the onion and sauté for 5 minutes. Then add the garlic, red pepper flakes, basil, and dried herbs. Cook until the onions are translucent.
Add the tomato paste and season with salt and black pepper. Cook until mixture is a brick-red color.
Add tomatoes, TVP/sausage, bay leaf, sugar, margarine, and 1 cup of water. Stir, taste, and add more salt if needed.
Cover and simmer on low heat for a minimum of 30 minutes (or up to 2 hours).
Prepare your pasta in salted, boiling water until al dente. Before draining and rinsing, set aside 1 cup of the pasta water.
Combine pasta and sauce. Add enough pasta water to coat all the noodles so that you get a glossy finish. Stir, serve, and enjoy!
---
Coconut lentil curry (vegan)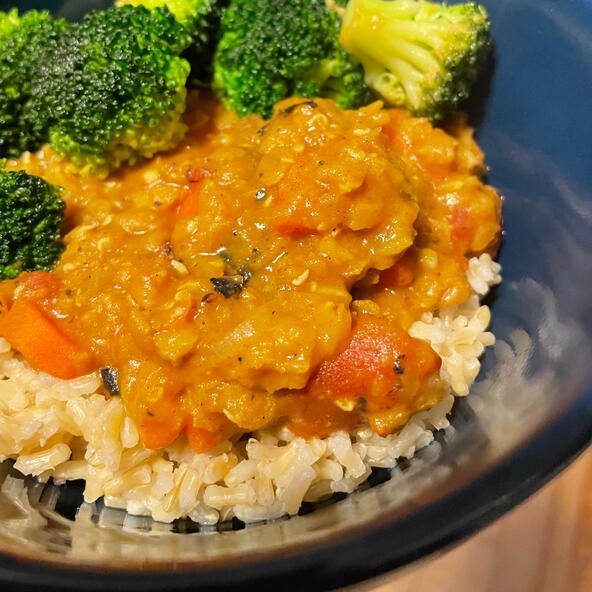 Curry is how I survive the winter.
This recipe is so easy and forgiving that you can cook it in a pan or a crockpot. It's not quite traditional Indian cuisine, but it always turns out delicious.
Makes about 4 servings.
Ingredients
1 onion
2 cloves garlic
2 cups cauliflower or potato, chopped
1 cup carrot, chopped (optional)
1½ cups dried lentils (red, yellow, or brown)
1 tablespoon ginger paste
2 tablespoons tandoori masala (or garam masala if you don't like heat)
1 teaspoon cayenne powder (optional)
16-ounce can fire-roasted tomatoes (undrained)
15-ounce can unsweetened coconut milk
Cilantro (to taste)
Salt (to taste)
Directions
Peel and mince the onion and garlic. Chop the cauliflower/potatoes and carrots.
If preparing in pan: Sauté the onion and garlic for a couple of minutes. Then add all other ingredients. Simmer for at least 30 minutes, until the lentils are soft. Serve over cooked brown rice.
If preparing in crockpot: Combine all ingredients in the crockpot. Cook for 4-5 hours on low, stirring at least once. Add a little water if it gets too thick. Serve over cooked brown rice.
---
Soy "chicken" strips (vegan)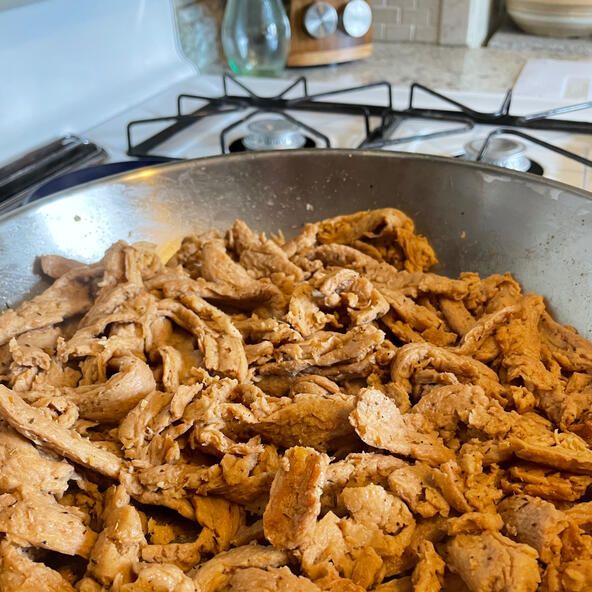 Soy curls are my favorite vegan meat, hands down. They are minimally processed and perfect for fajitas or salads! And no chickens are harmed.
This recipe also includes my vegetable stock method, in case you want to be extra sustainable. Over the course of a month or so, I add vegetable remainders (onion, garlic, tomato, celery, squash, carrots, parsley, etc.) to a plastic bag in the freezer. Almost any combination creates a flavorful stock.
Makes about 4 servings.
Ingredients
1 pound of vegetable remainders or 1 carton of vegetable stock
2 cups Butler soy curls
3 tablespoons soy sauce or liquid aminos
2 drops liquid smoke (optional)
Penzey's Northwoods seasoning or your preferred poultry seasoning (to taste)
Directions
(Skip if using store-bought stock.) Add vegetable remainders to a large pot and cover with water. Bring to a boil and simmer for 1 hour. Pour the stock through a mesh strainer or cheesecloth into a pitcher.
Combine soy curls and about 4 cups of stock (enough to cover curls) in a large pan over medium heat. Simmer for 10-15 minutes.
Drain the curls and return to heat. Add soy sauce, liquid smoke, and seasoning, and sauté until lightly browned.
---
Jambalaya (vegan)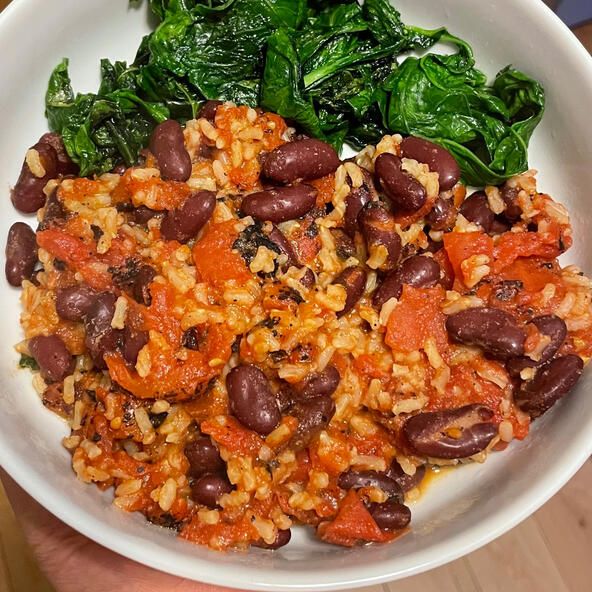 Another versatile and lazy recipe. Feel free to make it your own!
Makes about 3 servings.
Ingredients
1 red onion
3 cloves garlic
1 bell pepper (your color choice)
3 cups collard greens or Swiss chard
15-ounce can fire roasted tomatoes (undrained)
1 Field Roast sausage, sliced (optional)
15-ounce can kidney beans
1 cup instant brown rice
2 tablespoons Tony's Creole Seasoning
1 tablespoon dried Italian herbs
2 tablespoons olive oil
Directions
Peel and mince the onion and garlic, and chop the pepper and collard greens.
In a large pan, sauté the onion for 5 minutes. Then add the garlic, pepper, tomatoes, and sausage (saving the collard greens for later). Sauté until the onions are translucent.
Add the kidney beans, brown rice, Tony's seasoning, dried herbs, and 1 cup of water. Simmer for at least 20 minutes or until the rice is cooked, stirring occasionally and adding small amounts of water if necessary.
In a separate pan, sauté the collard greens in olive oil until wilted. Salt to taste. Serve alongside the jambalaya.
---
Black bean burgers (vegan)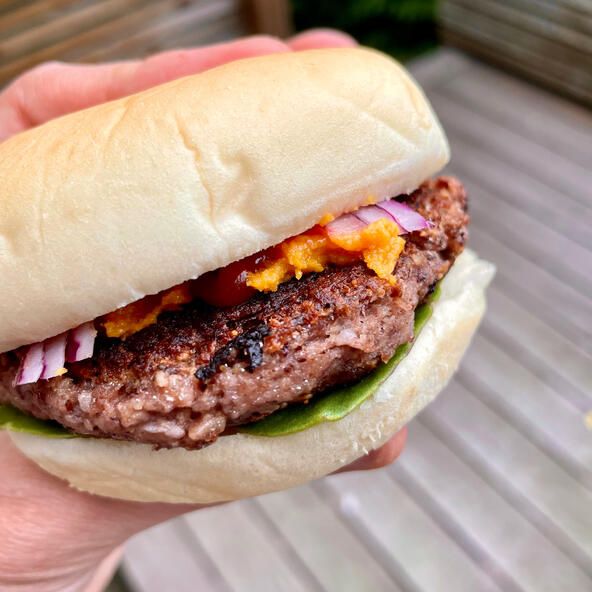 I tried so many store-bought veggie burgers and was constantly disappointed. I don't want something ultra-processed, but I also don't want chunks of corn and carrot in my patties.
These black bean burgers are sturdy and char nicely, and they have 11 grams of protein each. You can freeze the patties for throwing on the grill all summer.
Adapted from a recipe by Robin Robertson.
Makes about 6 servings.
Ingredients
15-ounce can black beans, well-drained
2 tablespoons milled flax seed
½ red onion
¾ cup chopped walnuts
¾ cup old fashioned oats
3 tablespoons vital wheat gluten
3 tablespoons nutritional yeast
1 tablespoon vegetarian gravy mix
1 tablespoon grill seasoning (salt, garlic powder, paprika, black pepper, etc.)
4 drops liquid smoke
2-4 tablespoons olive oil
Directions
In a large bowl, empty out the drained can of black beans and allow them to air-dry for a few minutes.
In a small bowl, add 3 tablespoons water to the milled flax seed, whisk with a fork, and set aside to thicken.
Peel and chop the onion half.
In a food processor, combine the walnuts and oats, and process until finely ground. Then add all the other ingredients except the olive oil, and process to mix thoroughly (but don't over-process into a dough).
Transfer the "meat" to a work surface. If the mixture is too soft, add more vital wheat gluten and knead. Divide into 6 balls and press into flat, half-inch thick patties.
For pan frying: Set the patties in the fridge on a plate for 30 minutes. Then fry in a pan of hot oil until nicely firm and charred (about 5 minutes on each side). Garnish with veggies and cheese and serve!
For grilling: Layer the patties between parchment paper in a container and freeze overnight. Then preheat grill to 400°F. Brush both sides of the frozen patties with olive oil, and grill until nicely charred. Garnish with veggies and cheese and serve!
---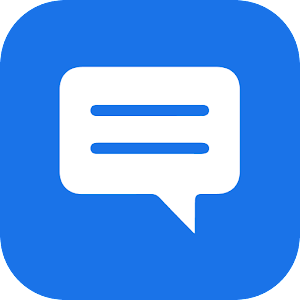 ---